Our brand Salama for 100% Turkey prodcuts
Bavarian and international at the same time
Bavarian "made in Germany" specialities are highly prized the world over. Tradition and international commitment complement each other at Höhenrainer and open up interesting perspectives for you.
At Höhenrainer, people come first. Showing respect to one another, and therefore also to other cultures, is the basis for amassing new experiences and provides opportunities for further development.
Salama – the perfect brand for the Muslim market
As Höhenrainer products contain only 100 % pure turkey meat, they are perfectly suited not only to European markets but also to Muslim markets. Therefore we do not only export to Italy or to other countries in Europe, but also to Dubai or to other Muslim countries.
To address the requirements of these markets in as targeted a manner as possible, we developed the Salama brand. This is produced specifically to the requirements of Muslim customers and contains only halal meat.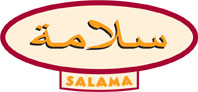 Salama means 'security' and guarantees products of the highest quality as well as natural, healthy, tasty food.
You will find here a big range of specialities, each one guaranteed to be as tasty as the next. They include unique varieties of high-quality turkey breasts, various different halal turkey sausages, traditional low-fat sliced meats and an extensive range of halal convenience products.
You can trust our halal-guarantee: