Catering Inspiration: Turkey Snacks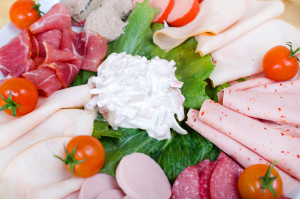 When organising an event, catering is a decisive factor to its success. Good food makes your guests feel comfortable. Because catering is an accompaniment to events such as receptions or a big football match, there are a few guidelines to take into consideration. Serving finger food is always a good idea. It is uncomplicated to eat and will not distract your guests from the main event. Cold appetizers are perfect because you never have to worry about the food getting cold losing its tastiness.
Here are a few catering tips:
1. The fresher the finger food is, the better it tastes and looks. Keep prepares appetizers refrigerated and under plastic wrap so it stays fresh longer.
2. Desserts and creams should be stored covered and in glass containers to prevent them from absorbing foreign odours.
3. Fresh herbs can wilt very quickly, so store them wrapped in a moist paper towel in the vegetable drawer of the Refrigerator.
4. Serving finger food with wooden sticks is also a creative idea. Skewers with a variety of foods can be served conveniently in individual portions.
Turkey Specialities from Germany
Surprise your guests with original German specialities made of pure turkey meat. German cuisine is internationally famous. Guests from all over the world flock to Munich every year to experience the specialities and unique atmosphere of Oktoberfest. Höhenrainer believes that everyone should be able to enjoy the unique flavour of these products and offers typical sausage and cold cuts made of 100% pure turkey for Muslims in halal quality. The Höhenrainer halal seal guarantees observation of Islamic laws from slaughtering through production and handling.
Serve your customers traditional German delicacies such as cold cuts, frankfurters, sausages or roast made of tender turkey meat. And don't forget the favourite national German dish – the 'Schnitzel'. Freshly prepared, these dishes are the perfect finger food. Many of our turkey meat specialities can also be barbecued, which makes it easy for you to set up a cold buffet and serve fresh hot dishes as needed.
Why not organise a German evening?

Our variety of German products makes it possible for the Arab world to enjoy a completely new taste experience. Try something new and exciting, and offer your guests something completely different. For example, serve our turkey meat specialities at a football party while viewing FC Bayern München in the Champions League. Show your guests that not only German cars like Mercedes or BMW are world class: German cuisine is enticing and presents you with an original opportunity to showcase your entertaining skills.
Recipes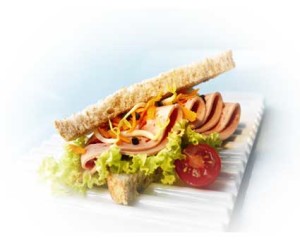 Ingredients (single serving):
2 slices whole grain bread
1 tbsp butter
2 small leaves of lettuce
1 small  carrot, grated
80 g Salama meat sausage
1 tbsp soya bean sprouts
2 black olives, pitted
Instructions:
Wash lettuce leaves, carrot and sprouts and then pat dry. Finely grate the carrot and dice the olives. Toast the whole wheat bread, allowing it to cool. Spread butter on the slices and cut them diagonally. Taking two triangles, place a lettuce leaf and half of the Salama meat sausage on it, then layer half each of the grated carrots, soy bean sprouts and diced olives on top of the sausage. Cover with the other triangle of bread.
Nutritional value per serving:
Energy:
2166 kJ / 518 kcal
Fat:
28, 0 g
Carbohydrates:
35, 0 g
Protein:
31, 0 g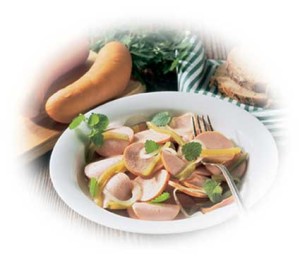 Ingredients (4 servings):
600 g Salama meat sausage
2 onions
2 gherkin pickles
4 tbsp white wine vinegar
2 tbsp cooking oil
a dash of water
freshly ground black pepper
a pinch of cayenne pepper
2 tsp salt
1/2 tsp sugar
parsley to taste
fresh, colorful salad herbs
Instructions:
For the dressing: Mix vinegar, oil, water, sugar and spices together. Slice the Salama meat sausage thinly, slice the onion into rings, and cut the pickles into thin strips. Add the dressing, toss, and garnish with the parsley and fresh herbs.
Nutritional Value per serving:
Energy:
1674 kJ / 400 kcal
Fat:
31, 0 g
Carbohydrates:
9, 0 g
Protein:
21, 0 g
Find all our products here.
For more information about SALAMA or to contact us, please visit this site